News & Announcements
Charity Golf Tournament
October 5, 2018·

What a beautiful day for our charity golf tournament benefiting Pope County Senior Activity Center. We, The Arbors Assisted Living Facility of Russellville, were able to donate $7,200 to the Center. thank you to all the sponsors, players, volunteers and a special thank you to everyone at the gorgeous Chamberlyne Country Club for their hospitality! We appreciate it!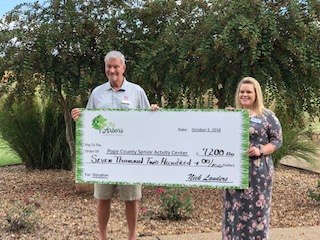 RIVER VALLEY VETERANS COALITION
August 20, 2018·

Nick Landers, developer of The Arbors, a state of the art assisted living facility, currently under construction on Bradley Cove Road in Russellville was in town August 8th. He was participating in and supporting the 2018 River Valley Business Expo at Tucker Coliseum on the Arkansas Tech University Campus. While attending the Expo, Bill Eaton, representing the River Valley Veterans Coalition was presented a $1000 check from Mr. Landers for the Coalition to assist with construction and in honor of those who served.